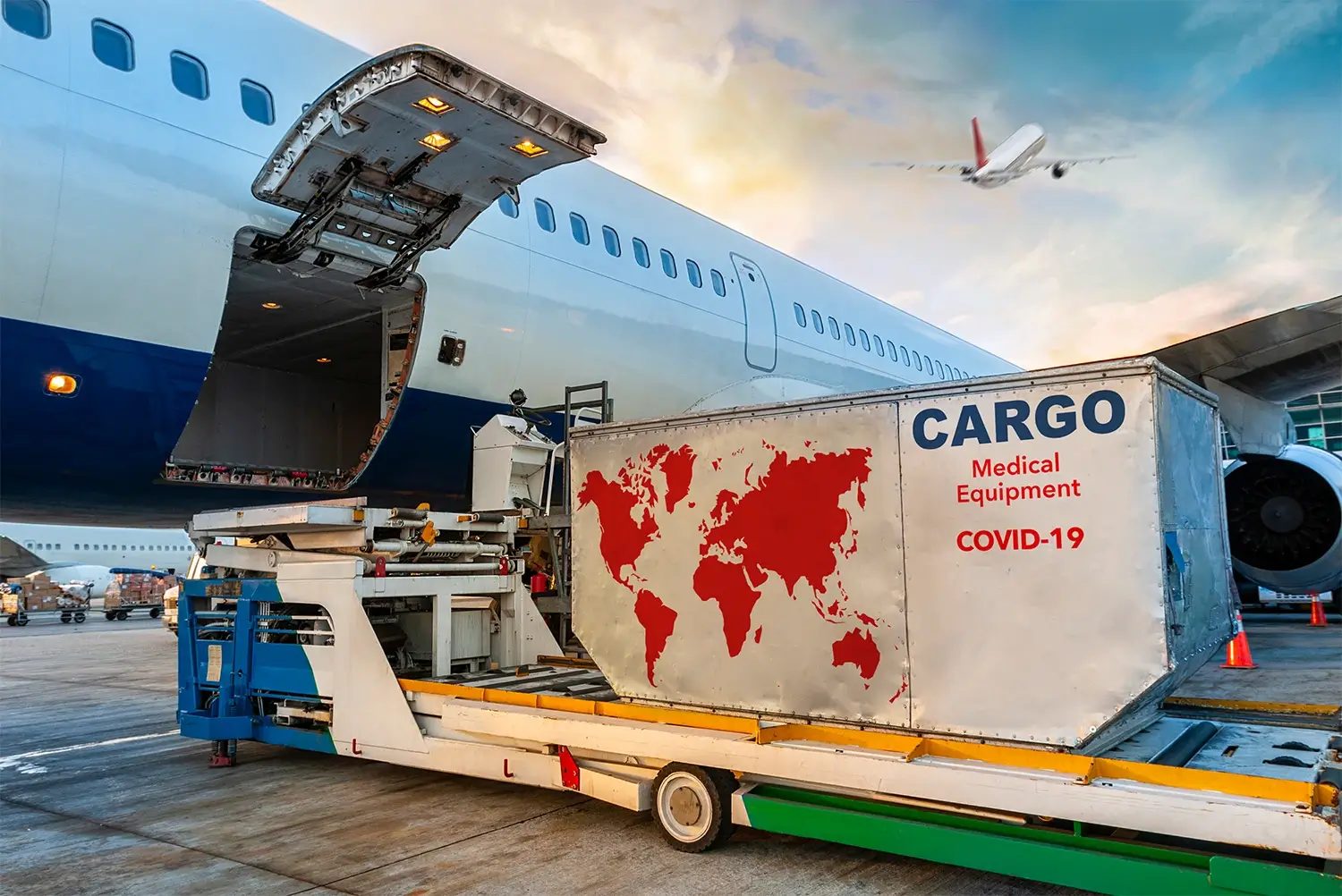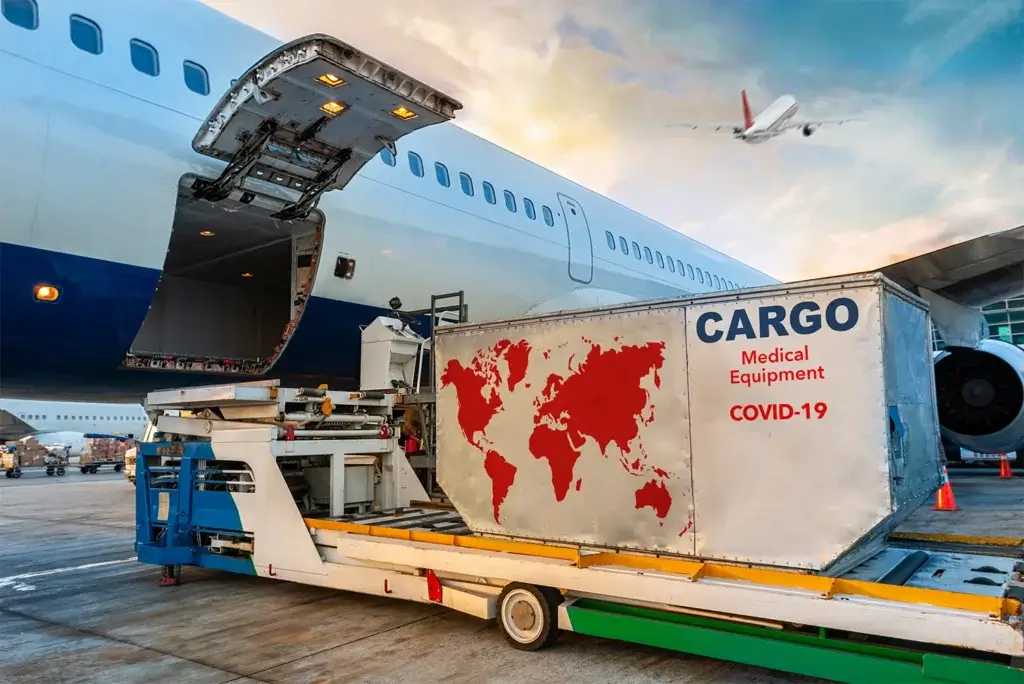 Customers expect dependable and efficient service in today's fast-paced, connected world, and businesses are always looking for creative ways to improve their operations and stay one step ahead of the competition. The specialized pharmaceutical logistics sector is no different, and the demand for safe, dependable, and effective supply chains is greater than ever with the emergence of biopharmaceuticals and customized medications.
The industry has grown significantly in recent years. To improve patient experiences, keep a competitive advantage, and deliver the highest levels of customer care, businesses must continue to be innovative in adopting new technology and best practices. There are serious consequences if medications do not reach patients wherever they are. In this article we'll discuss what are the benefits of Real Time Monitoring in Pharma Logistics.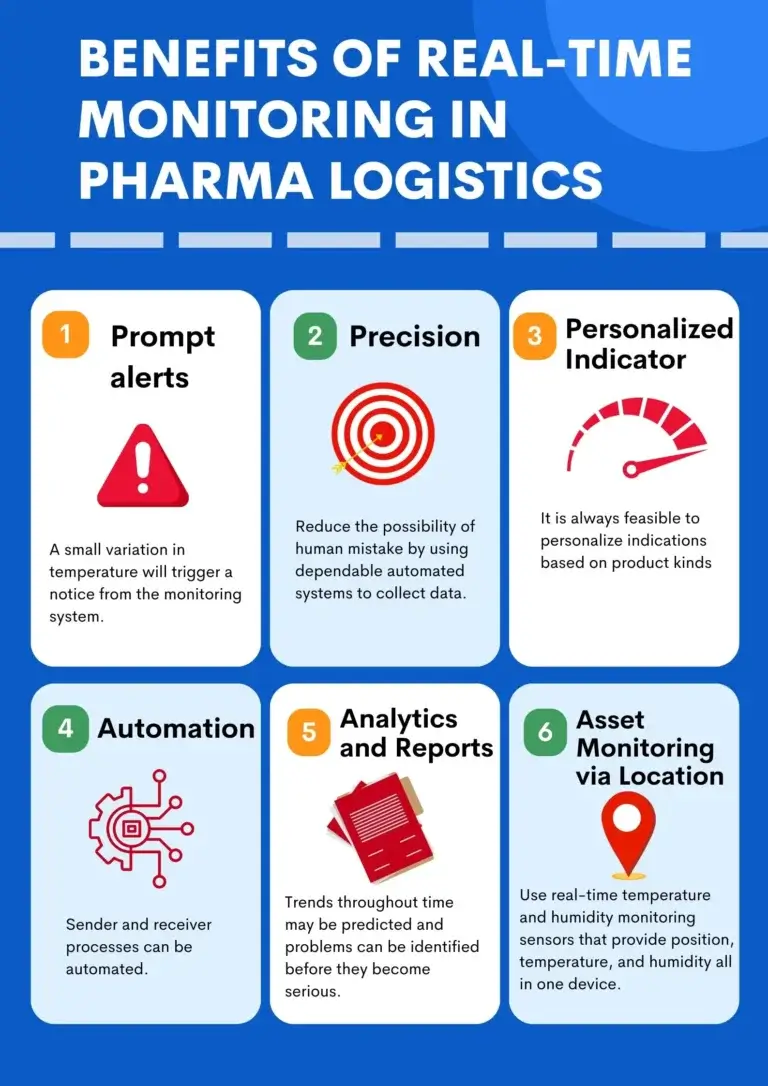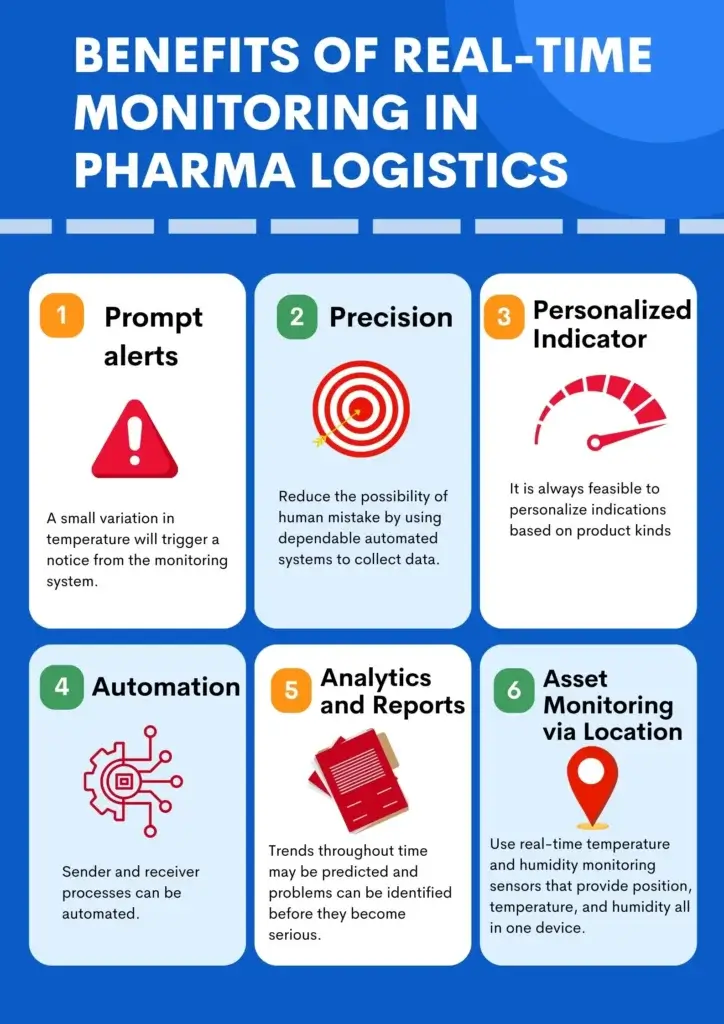 What Is Real-Time Monitoring?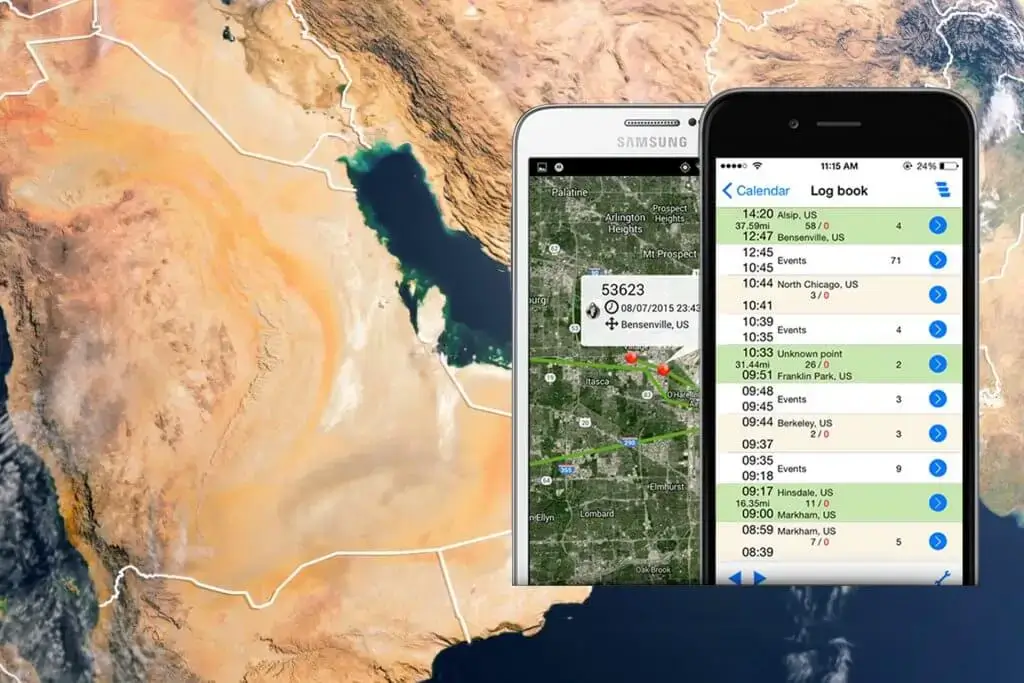 The supply of continually updated data at zero or low latency is known as real-time monitoring. Real-time data collection gives us the chance to identify and anticipate trends and react quickly to issues.
Consider samples that are special and need to be frozen in order to remain viable. It is conceivable that valuable specimens will be lost if the temperature changes to dangerous levels while being transported. However, the samples can be saved if the proper real-time temperature monitoring system is in place. One can always spot the warning flags in the data and anticipate them.
Real-time monitoring may now function as a component of a network of connected computer equipment that gathers and shares data without the need for human engagement thanks to developing technology. This type of system is known as the internet of things (IoT).
The key to preventing deviations in the pharmaceutical cold chain is high-fidelity data
Technological developments are opening up new avenues for pharmaceutical product management and tracking, and the information gleaned from these advancements is critical to guaranteeing that shipments reach the intended recipients on schedule and at the correct location.
The capacity to follow pharmaceuticals, raw materials, and other relevant goods as they travel through the supply chain in real time is known as real-time monitoring. In order to guarantee that they are transported and kept in a way that preserves their quality and safety, this involves keeping an eye on their location, temperature, shock, and other crucial criteria. It produces priceless data that enables operational teams to react to deviations promptly. Similarly, groups may keep an eye out for any problems and take early action. The likelihood of delays, losses, or damage to medications is decreased by this increased visibility. A successful logistics operation now depends critically on real-time monitoring data, especially in a sector where quality and timing are of the essence.
Keeping the pharmaceutical cold chain from excursions
Logistics businesses need to have the capacity to step in when exceptions arise. Data by itself cannot resolve any issues. Logistics organizations will be best positioned to respond to real-time data insights and will have the best chance of averting shipment failures if they have access to a broad variety of delivery alternatives and a sizable, geographically dispersed infrastructure, including people and buildings.
Overcoming real-time monitoring's technological obstacles
Real-time monitoring can be difficult due to the difficulties of tracking cargo across several modes of transportation, in various places, and under various circumstances.
Making ensuring the technology is dependable and strong is the first step towards conquering the technical challenges of real-time monitoring. This means that a wide range of circumstances and surroundings must be supported by the solution for it to function well. Devices must, for instance, be resilient to changes in pressure, temperature, and humidity as well as be able to stay connected to the monitoring system consistently and reliably from any location.
Apart from the dependability of the monitoring technology, businesses also need to take into account the logistical difficulties involved in setting up, maintaining, and changing the monitoring equipment. To guarantee that the monitoring system is continually current and operational, this may involve substantial resources, including staff, buildings, and equipment.
Notwithstanding these technological difficulties, real-time monitoring has several advantages. Businesses may proactively address any concerns by receiving real-time insights about the location and condition of shipments. This lowers the risk of delays or damage to shipments and guarantees that patients receive the necessary high-quality pharmaceuticals.
Benefits of Real-Time Monitoring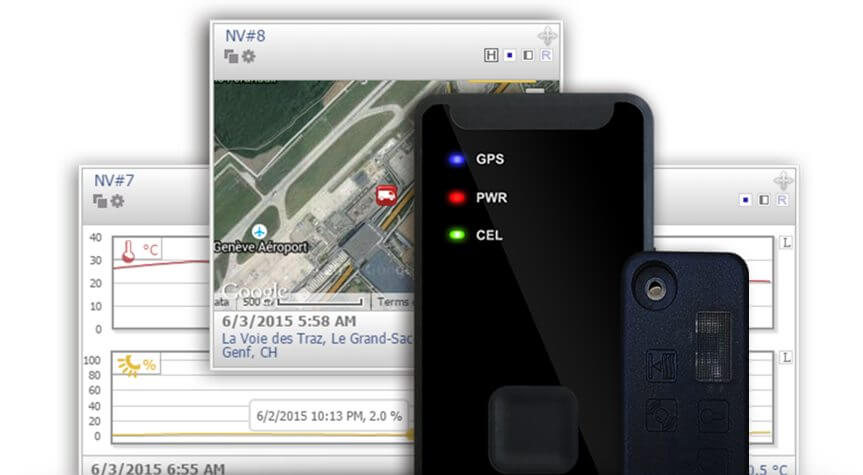 Increase revenue by keeping products from becoming damaged. This is the process:
Prompt alerts. Determine the seriousness of the problem and what may be done to save the goods. A small variation in temperature will trigger a notice from the monitoring system.
Precision. Reduce the possibility of human mistake by using independent, quick, and dependable automated systems to collect data.
Personalized Indicator. It is always feasible to personalize indications based on product kinds when using the proper real-time temperature monitoring system.
Automation. Sender and receiver processes (automatic start, automated stop, and automated upload) can be automated. Streamline the supply chain's management.
Analytics and Reports. Reports that are automatically generated by a real-time temperature monitoring system are crucial for trend analysis and the development of new policies. With the use of this data, trends throughout time may be predicted and problems can be identified before they become serious.
Asset Monitoring via Location. There are new options for asset location tracking when using real-time temperature and humidity monitoring sensors that provide position, temperature, and humidity all in one device. Higher service levels (proactive intervention) from logistics service providers can reduce budget waste and product loss. They may also manage fleets more effectively by utilizing the information that is already accessible.
Data accessibility. Anyone with an established account may access information from any location with internet connection. The days of manually asking for temperature readings or making phone calls to be informed are long gone. You can monitor temperature changes throughout the supply chain with a real-time temperature monitoring system without having to install software, retrieve data loggers, or teach staff members how to submit information.
Lower the expense of administration. Heat-maps and insurance claims are two examples of how to use aggregated temperature/humidity and location data to enhance the cold chain and cut costs.
What to Consider When Choosing a Real-Time Temperature Monitoring Product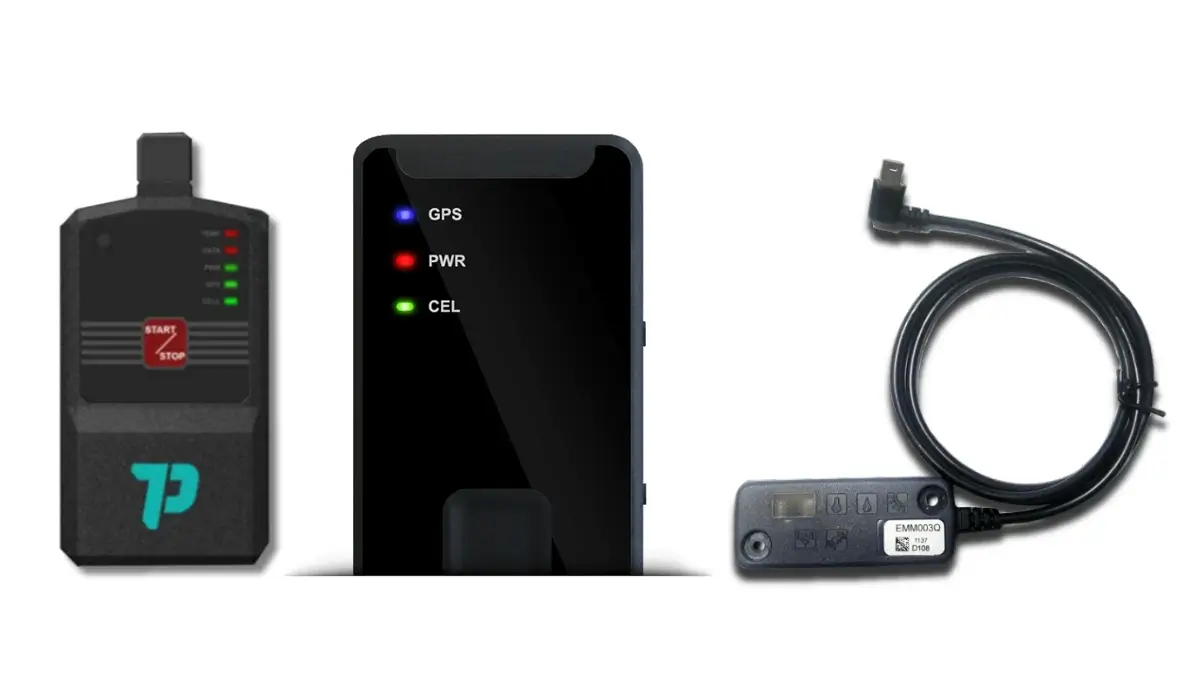 Comfortable for users. Some people are not tech-savvy. Having said that, choose a monitoring system that is simple to use at all times. In addition, it should be simple to configure, troubleshoot, or debug, and easily adapt to changes.
Length of battery life. Monitoring systems need to have a long battery life in order to reduce the possibility of data loss because they continuously record and monitor data.
Ability to store. Systems for monitoring real-time temperature follow shipments over several weeks or even months. In order to store such data, the system will need enough storage.
Transmission of data wirelessly. Wireless data transfer is essential for a real-time temperature monitoring system. Data should be transmitted by the system promptly to enable prompt action and response from the team. A cloud-based data storage solution works incredibly well with wireless data transport.
Package-level observation. Packages may occasionally remain outside of the specified temperature range or be shipped for a longer period of time. This is the reason why hardware must be attached to each package in order to provide smooth container monitoring.
Data on temperature over time. Temperature data collected over time aids in decision making. It is an essential source of product information for everything from batch disposal to dispute resolution.
How 7P Real time monitoring products can help your supply chain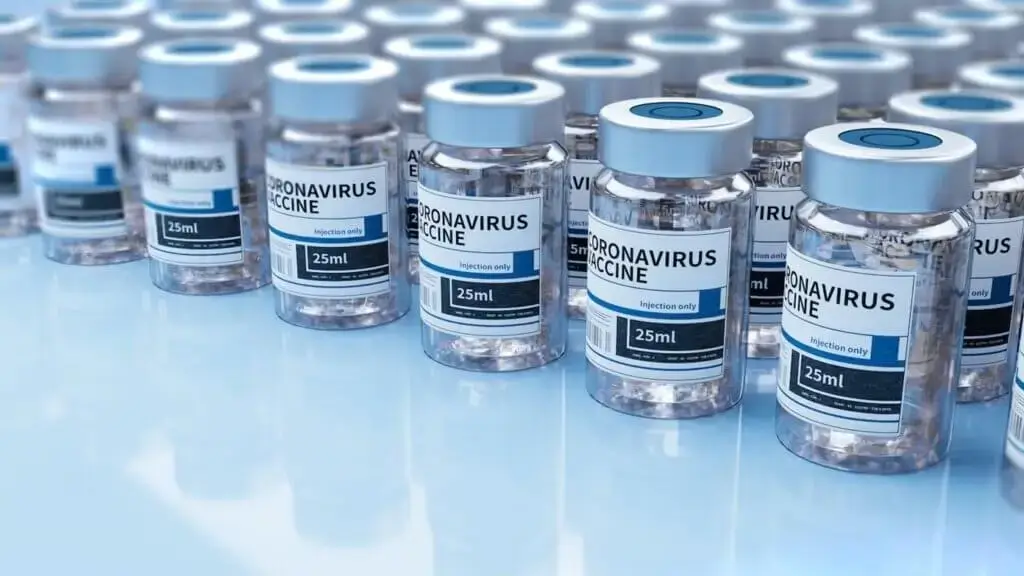 In the quickly developing industry of pharmaceutical logistics, protecting the integrity and safety of sensitive items is essential. Leading the way in this innovation is coldpackaging.com with their 7P real-time monitoring gadgets. In this industry, real-time tracking and monitoring has proven to be revolutionary.
Real-time monitoring in pharmaceutical logistics offers several advantages, one of which is the ability to closely monitor your cargo at every point of the supply chain. The ability to foresee issues before they arise and take proactive steps to address them, such as temperature swings or other environmental conditions that might compromise the efficacy of medical goods, makes this level of visibility very valuable. The 7P real-time monitoring tools from Coldpackaging.com provide you piece of mind by continually keeping an eye on your cargo.
Real-time monitoring is crucial to the efficient management of environmental conditions, which is a major requirement for pharmaceutical logistics. Changes may be made promptly as needed by employing these monitoring systems to give access to real-time data on temperature, humidity, and other environmental conditions. Proactive action protects the quality of pharmaceutical products and ensures that stringent regulatory requirements are met.
Real-time fleet and transport vehicle tracking and monitoring is also quite advantageous. You can trace the vehicles along the supply chain with the 7P monitoring devices from coldpackaging.com. In the case of any unforeseen delays or issues during transit, you will be able to promptly take action and ensure the protection of your pharmaceutical cargo.