Monitor your global Cold Chain shipments in a central database in the Cloud, or integrate the temperature data into your ERP.  At the destination the data logger automatically creates a PDF report summarizing temperature exposure during shipment.
LIBERO from ELPRO is the world's most flexible cold chain temperature management solution – available without software at origin or destination.
Cold Chain Packing® is your local distributor in the Middle East, so you can trust us to deliver the monitoring solution you and your clients need.
Our most popular products are displayed below.  We also offer the full range of ELPRO site and central monitoring systems upon request.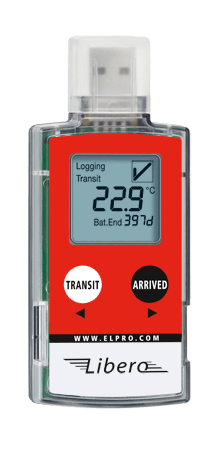 LIBERO Ti1 / Ti1-S – Reusable Multi-Level PDF Logger
The most versatile reusable PDF Logger for any cold chain monitoring application. Widest temperature measurement range of -35 °C..+70 °C and unmatched accuracy of ± 0.2 °C in the core range. Supporting up to six alarm levels and the possibility to add shipment-specific information. After its monitoring task is completed, it can easily be reconfigured with the same or completely new settings and the LIBERO Ti1 is ready for its next monitoring task. LIBERO Ti1 is delivered in boxes of 50 with validation certificate.
LIBERO CD - Dry Ice PDF Logger
With an internal temperature sensor and extra battery power to withstand the tough dry ice environment, the LIBERO Ti1-D single-use PDF Logger measures and records temperatures as low as -90 °C. Supports up to six alarm levels and the possibility to add shipment-specific information allows for individual configuration by the user.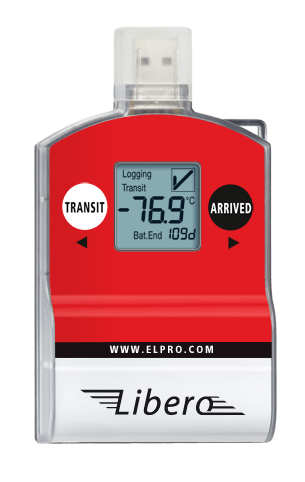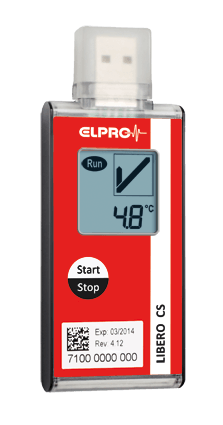 LIBERO CS / CB – Multi-Level PDF Loggers
The PDF Logger that simplifies the shipment process for products with known stability data. Supporting up to eight alarm levels, MKT and duration as alarm criteria the LIBERO CS allows the user to create temperature profiles for individual products. No need to keep different loggers in stock; simply apply the correct configuration profile and add shipment information at the time of use and send off the logger. No equipment or software is required. Release products based on the OK or ALARM status on the display, download the PDF report and forward it to the sender or to liberoMANAGER, ELPRO's cold chain database, for further analysis.
LIBERO CI – Multi-Level PDF Indicator
Like the LIBERO CB and CS, the CI features a single-use indicator and measurement range of -20 °C..+70 °C, in addition to accepting any temperature profile at the time of use with up to eight alarm levels, MKT or duration as alarm criteria. Decide how much information should be visible or if a simple OK or ALARM is all the recipient should see. LIBERO CI provides a PDF report with statistics information but no graph. LIBERO CI is delivered in boxes of 40 with validation certificate and auto-expiry date management.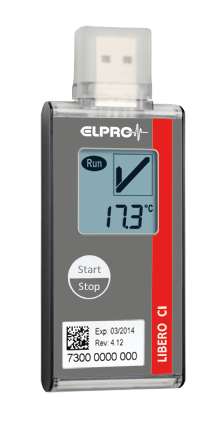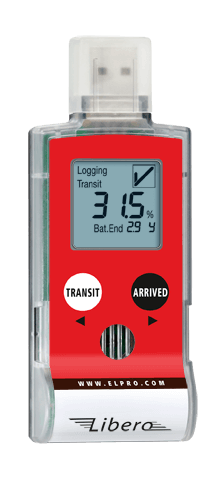 LIBERO THi1 Temperature & Humidity Logger
LIBERO THi1 is the ideal data logger for climate monitoring of smaller storage facilities, display cabinets or climate chambers as well as for test and verification applications. The data logger automatically evaluates alarm criteria and creates a PDF report as soon as it is plugged into the USB port on any computer without the need of installing software. LIBERO THi1 is available in three versions – the 3 years lifetime (THi1); the multiple use device with 400 days (THi1-Y); and the single use for 100 days (THi1-S). Optionally, a bracket for audible and visual alarm is available.
LIBERO Ti1-L Long Life PDF Logger
The LIBERO Ti1-L continuously logs data over a period of 3 years. When inserting it into the USB port of your PC, it automatically creates a complete PDF report including temperature curve and statistics. Its application area is refrigerator / freezer monitoring or temperature monitoring of smaller storage facilities and rooms in general. LIBERO Ti1-L offers a high accuracy of ±0.2 °C in the range of -10 °C..+25 °C and covers a measurement range of -35 °C..+70 °C.