Dry Ice shipping is a great solution for keeping items, such as medical supplies in a stable and frozen condition during transportation.
Our PELI Dry Ice Shippers offer one of the most comprehensive ranges of dry ice shipping systems. They are affordable and a great available method for protecting frozen products when being shipped, especially for longer periods of time.
They are engineered and tested to work in real world situations. You will be able to ship immediately and confidently. The shippers have been stress tested in temperatures of +30C and it ensures the materials are kept frozen, no matter what. This makes them suitable for a wide range of applications and environments.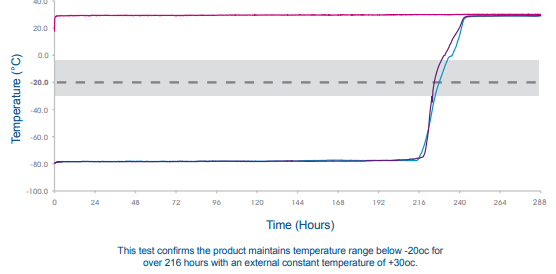 So, why choose dry ice shipping as your shipping method?
The material used is insulated EPS (Expanded Polystyrene which is moulded to create density to achieve the performance to ship your product. It has been tested in extreme conditions, keeping products frozen for up to 225 hours at temperatures below -20C. Our dry ice systems are available from 5 litres to 94 litres with temperature consistency throughout them all and a robust solution.
At Cold Chain Packing & Logistics we have new stock in of EPS moulded dry ice shippers to help you with your shipping of frozen and temperature-controlled goods.
"Unrivalled 'Real World' data profiles and technical services provide you with the assurance that your product will arrive at its destination as you intend it to."
-Peli BioThermal
Cold Chain Packing & Logistics is the Middle East specialist in Cold Chain Solutions. With years of experience operating in one of the most extreme climates in the world, based in Saudi Arabia. We offer a range of professional services and quality products for the Cold Chain Industry. To find out more about our services you can visit our website or get in touch with us.